Specialty Pharmacy
AppleRX Pharmacy
Our Care Team works hard to take on the administrative and clinical burdens placed on physician's practice so you can focus your time and energy on improving the health of your patients.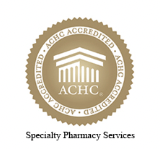 Our Specialty Pharmacy Services
We Can Fill Most Specialty Medications
Collaborative Practice Program
We work with all Hospitals, Senior Homes, Home Health Agencies, Mental health Facilities, and Hospice Facilities to offer these programs:
340B

Transitional Care

Diabetes Care

Long Term Care



Specialty Patient Management Program
1. Initial Assessment
Our staff will introduce you to the Apple team and help counsel you on your new therapy by reviewing with you the following:
Administration of your medication

Side effects, symptoms, and allergies

Storage, disposal, and safety
2. Foundation & Program Enrollment
A friendly Patient Care Coordinators will guide you through the steps needed to complete your insurance profile. At this point, you may be eligible for the following programs:
Copayment Assistance Programs

Manufacturer Assistance Programs

Other current financial savings offers
3. Customize Medication Shipment
Once your profile is complete, you can customize your shipment's location, signature release, special delivery instructions to your specific needs.
4. Initial Check: Administration
Upon receipt of your first shipment, you will receive a call from one of Apple's friendly Patient Care Coor- dinators, ensuring that you under- stand the instructions and indications for use of the medication, and that you are comfortable with the guidelines for therapy.
5. Monthly Check-ups:
One month after enrollment, AppleRx will maintain your schedule of compliance calls to include remind- ers for lab value monitoring, physician visits, and important updates to therapies.
6. Monthly Lab Monitoring
Clinical outcomes rely on strict monitoring laboratory values. We will provide therapeutic progress reports as needed to the care team, and with your engagement into this program, we may contact your prescriber for follow
up laboratory values to ensure appropriate therapy. You may opt-out of this patient management program at any point—just call and let your Apple Pharmacist know!